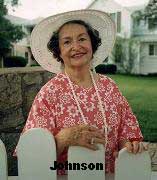 NEW YORK - Former first lady Lady Bird Johnson outlived her husband, Lyndon, by more than 35 years, expanding on her White House efforts to carve her own legacy as an environmentalist.
When she died July 11 at age 94, she left behind countless miles of scenic highways across the United States, dotted not by billboards and junkyards but by wildflowers.
She is one of the political figures, artists, businessmen and heroes to whom we said goodbye in 2007.
Two charismatic but flawed leaders, Russia's Boris Yeltsin and Pakistan's Benazir Bhutto, aimed to bring democracy to their homelands. Wally Schirra reached for the stars as one of the original team of Mercury astronauts.