Some employers in the region stood out in our survey based on workers' responses to statements about their company's direction, opportunities and other values. Here are the top workplaces in six of those categories.
Direction: I believe this company is going in the right direction.
ViroPharma Inc.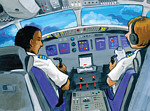 Last October, ViroPharma CEO Vincent Milano spoke at a national conference for people with hereditary angioedema, a rare "orphan" disease of the immune system. Milano was there because Exton-based ViroPharma makes Cinryze, a medication prescribed to some of the 6,000 Americans with the condition.